Shipping & Returns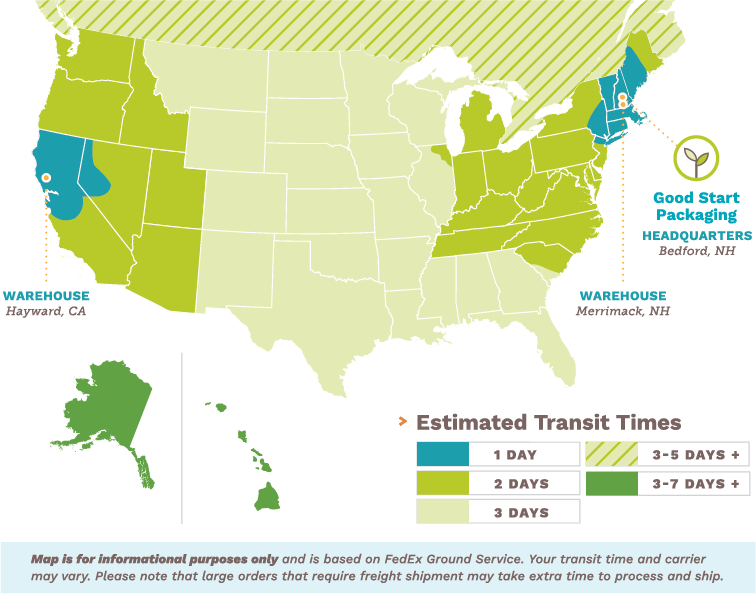 U.S. & Canadian Orders
Our warehouses are located in Merrimack, NH and San Leandro, CA. We ship via ship via FedEx Ground. Most orders ship within one business day. Orders placed before 10:30 am Eastern Time will ship that day. Large pallet-sized orders ship via FedEx Freight within 1-3 business days. For multiple pallet orders contact us for a custom quote. Shipping times may vary depending upon the product ordered. Shipping Cost and Estimated Shipping Time will show in checkout.
If shipping to a commercial address, a signature will be required for proof of delivery. FedEx orders are trackable and a tracking number will be sent to you upon your order shipping. If shipping to a residential address, your items will ship FedEx Home Delivery. Because Residential Deliveries are sent without a signature requirement, we have little to no recourse when disputing lost packages. We strongly encourage clients shipping to a residential address to sign up for the FedEx Delivery Manager®.
San Francisco Bay Area: When ordering specific products, we offer a flat rate Local Delivery option at checkout.
Canada: All customs and borders fees are included within the final pricing provided at checkout.
International Orders
We only ship directly in the U.S. & Canada, however we do have many international clients that order regularly. We also ship samples internationally.
If you are located outside of the U.S. or Canada, we can ship your order using an intermediary U.S.-based freight forwarder. We ship to the freight forwarder, and they ship it to your international address. Freight forwarding businesses are commonly used for international shipping and are widely available, located in all major U.S. port/coastal cities. Using a freight forwarder is easy, here's how:
1) Contact a freight forwarder and make arrangements with them. It may be best to find a freight forwarder on the coast of the U.S. closest to your country. For example, if shipping to the Caribbean, use Miami or Jacksonville based forwarders. If shipping to Europe, Boston or New York would likely be ideal.
2) Check out on our website using your name and address for billing and the name and address of your selected freight forwarder for the shipping information.

Return Policy
All items, with the exception of sale/clearance items, may be returned if the items are unused and in the original unopened manufacturer's packaging. Our items are used in food service, and due to food safety regulations, we cannot accept opened merchandise unless the items were shipped in error or damaged in shipping.
Items must be returned within 30 days from receipt of your order. Please contact our Client Service team at (866) 971-9251 or through our contact form for a return label and instructions. You will be responsible for return shipping plus a 15% restocking fee which will be deducted from your refund. Upon receipt and inspection of the returned items, we will credit you, less these fees, to the original form of payment.
Refunds may take up to 2 weeks to process. A restocking fee is charged so we can keep our prices low. For every returned item, there are additional costs involved with processing the return. Instead of raising our prices site-wide to make up for this cost, we charge a restocking fee for each returned item.
Note: We encourage clients to take advantage of our large assortment of samples to try out products prior to purchasing full cases or pallets.
Damaged Items / Errors in Shipment
If your shipment arrives damaged, incorrect or incomplete, please contact our Client Service team at (866) 971-9251 or through our contact form within 5 business days of receiving your order. We require images of the damaged items to show our supplier or shipping carrier. If part or all of your shipment was missing or damaged, and you do not contact us within 5 business days of delivery date, we cannot guarantee any compensation for damages or loss.
Any items returned to us due to incorrect address, refused shipment or repeated unsuccessful deliveries, will be treated as a standard return and subject to shipping and a 15% restocking fee.
Item Availability
Occasionally, inventory may be temporarily out of stock. In the case of a backorder, we will contact you to inform you of the extended lead time and the status of your order. To inquire about product availability, please contact our Client Service team at (866) 971-9251 or through our contact form. All items are subject to availability and while supplies last.