Compostable Materials
PLA - Bioplastic Made From Corn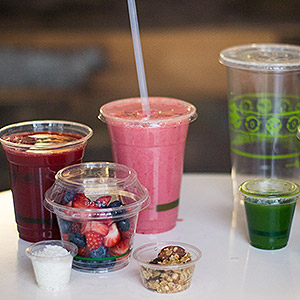 For food and drinks served cold or room temperature, we offer a line of clear cups and containers. These products are made from Poly Lactic Acid (PLA), a compostable, plant based bioplastic derived from U.S. grown corn.
Our compostable PLA utensils and hot cup lids are made from an enhanced strength version of PLA known as cPLA (crystallized) or tPLA (talc) that can withstand temperatures up to 200 degrees Fahrenheit.
Features & Benefits of PLA:
As strong as conventional plastics
Free of petroleum based chemicals in traditional plastic
Freezer-safe
Can handle food and drinks up to 110° Fahrenheit or higher for utensils
Compostable in commercial facilities
Find compostable plastics in our cold cups collection and as bowls, boxes and lids for take out containers.

For more information, check out our Guide to PLA.

Fiber Made From Wheat Straw
Many different types of fibrous plants can be used to manufacture alternatives to tree-based paper products. The wheat straw that use for of our fiber products comes from the stalk of the wheat plants. The stalks do not store protein, gluten or any other allergens.
Features & Benefits of Wheat Straw Fiber:
Uses 10x less energy than tree-based materials to produce
Meet FDA standards for gluten-free and non-allergenic products
Are made from highly renewable resources
Are microwave & freezer safe
Can handle liquids up to 200 degrees Fahrenheit
Fully compostable in 2-3 months in a commercial facility
You can find our wheat straw products in our collection of take out containers and fiber catering trays.
For more information, check out our Guide to Fiber Packaging.

Recycled & Sustainable Paper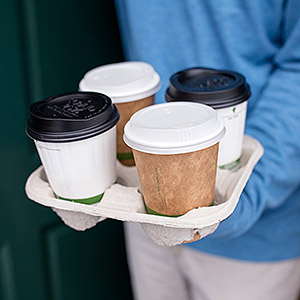 Our paper hot cups and straws are made with FSC certified paper which meets the standards for the Forest Stewardship Council. Also, our collection of paper to-go boxes are made from 100% recycled paperboard. Tree-based paper is used instead of other fiber alternatives because of technical constraints. Our paper products are sourced to have the lightest environmental impact as possible. Several of our hot cups are available without any bleaching process. Those which have been bleached used oxygen-based compounds rather than chlorine.
Featured & Benefits of Recycled & Sustainable Paper:
Are microwave and freeze-safe
Can handle hot liquids up to 200 Fahrenheit
Conforms to the FDA guidelines
Are fully compostable through commercial (1-3 months) and home (3-6 months) composting
Chlorine-free
Sustainable, FSC certified paper is used in our collection of paper hot cups. We also offer custom printing on these products.
For more information, check out our Guide to Recycled Paper Packaging.