Shipping
Below are our typical shipping times for U.S. customers. Our warehouses are located in Hayward, CA and Merrimack, NH. Most orders ship within one business day, if inventory is available. Shipping times may vary depending upon the product ordered.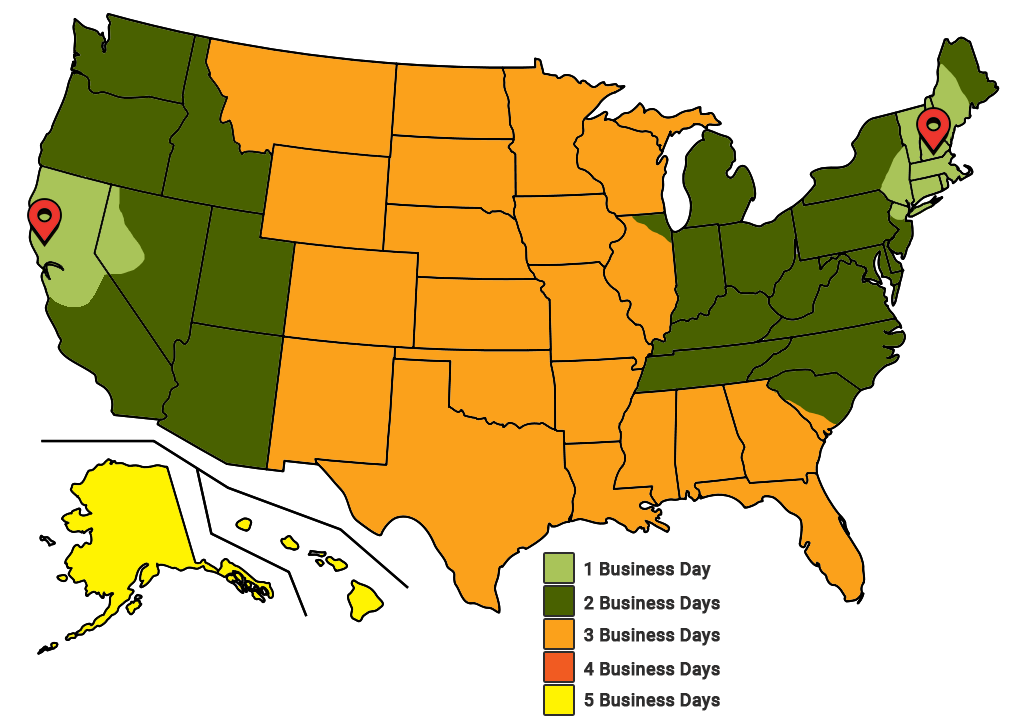 Shipping Deadlines
Items which are readily available in our warehouses can ship the same day if the order is completed prior to the deadlines listed below:
East Coast: 10:30 AM EST
West Coast: 1:30 PM PST
Canada Orders
We ship directly to Canada via FedEx. Just provide your address at checkout. All customs fees are included within the pricing provided.
International Shipping
Outside of U.S. and Canada: We will ship to your U.S.-based freight forwarder. Provide their address for shipping at the time of checkout. Learn more about international shipping and freight forwarders.
Shipping Methods
We process and ship orders Monday through Friday. Our office and warehouses are closed on the weekend.
We ship most items via FedEx Ground. If shipping to a residential address, we will ship your items via FedEx Home Delivery. FedEx delivers Monday through Saturday with Sunday delivery beginning in 2020. We strongly encourage clients shipping to a residential address to sign up for the FedEx Delivery Manager®.
For larger, pallet-sized orders, we ship via FedEx Freight. Fedex Freight deliveries ship out in 1-5 business days.
Return Policy
Effective May 14, 2020 we are temporarily suspending all product returns/exchanges for orders placed after this date until further notice due to the Coronavirus pandemic. While we understand this is an inconvenience, we are making this temporary policy change for the health and safety of our customers and staff.
We encourage customers to take advantage of our large assortment of samples to try out our products prior to purchasing full cases.
Damaged Items / Errors in Shipment
If your shipment arrives damaged, incorrect or incomplete, please contact our Client Service team at (603) 782-9513 within 5 business days of receiving your order. We may ask for images of the damaged items to show our supplier or shipping carrier. If part or all of your shipment was missing or damaged, and you do not contact us within 5 business days of scheduled delivery date, we cannot guarantee any compensation for damages or loss.
For Residential Deliveries
Because Residential Deliveries are sent without a signature requirement, we have little to no recourse when disputing lost packages with our shipping carrier, FedEx. We strongly encourage clients shipping to a residential address to sign up for the FedEx Delivery Manager®. This free service allows you to receive alerts, authorize deliveries online, provide specific delivery instructions, or request packages be held for pickup at a FedEx location. Alternatively, you can opt to have shipments sent to a commercial address where a signature will be required for proof of delivery.
Changes or Errors in Shipping Address
Please contact our Client Service team at (603) 782-9513 immediately if you need to make a change to your shipping address. Once an order ships, there will be fees associated with updating an address.
If an incorrect address is given at the time of the order and is corrected by our carrier, you will be responsible for the associated fees. Our carriers typically charge $17 per item to correct an address.
Any items returned to use due to incorrect address, refused shipment or unsuccessful delivery, will be treated as a standard return and subject to shipping and restocking fees above.
Additional Shipping Charges
You agree that we may charge any excess shipping surcharges to your method of payment as a result of appropriate address corrections made by the carriers. These may include residential or liftgate surcharges in cases in which customer has selected a lower cost shipping method for which they do not meet the criteria. We will make reasonable attempts to mitigate the need for this, negotiate to reduce them, and contact you in advance of making any charges. Shipping charges on custom orders will vary.
Backorders
Occasionally, inventory may be unavailable. In the case of a backorder, we will contact you to inform you of the extended lead time and the status of your order. If you need current availability for products and/or expediting options, please contact our Client Service team at (603) 782-9513.