Policies
Item Availability
Occasionally, inventory may be unavailable. In the case of a backorder, we will contact you to inform you of the extended lead time and the status of your order. If you need current availability for products and/or expediting options, please contact our Client Service team at (603) 782-9513.
'Ships within 1-2 days' refers to business days. Our office and warehouses are closed on Saturday and Sunday.
Occasionally, an item may have to ship directly from our supplier. If this is the case, we will contact you and give you a shipping time frame. Drop shipped orders generally ship within 5 business days.
All items are subject to availability and while supplies last.
Return Policy
Effective May 14, 2020 we are temporarily suspending all product returns/exchanges for orders placed after this date until further notice due to the Coronavirus pandemic. While we understand this is an inconvenience, we are making this temporary policy change for the health and safety of our clients and staff.
We encourage you to take advantage of our large assortment of samples to try out our products prior to purchasing full cases.
Canceling / Modifying an Order
Please contact us as soon as possible if you wish to change or cancel your order. If an order has already been sent to the warehouse, we cannot guarantee a cancellation. If you wish to modify or cancel an order, please contact our Client Service team immediately.
Orders that are refused at delivery, are undeliverable or returned by the client are subject to our standard return policy. These orders will be responsible for return trip shipping plus a 15% restocking fee.
Office hours are Monday - Friday from 8:00 AM – 5:00 PM EST. If you place an order over the weekend and need to make a change, please contact us via this form.
Below are our typical shipping times for U.S. clients. Our warehouses are located in Hayward, CA and Merrimack, NH. Most orders ship within one business day, if inventory is available. Shipping times may vary depending upon the product ordered.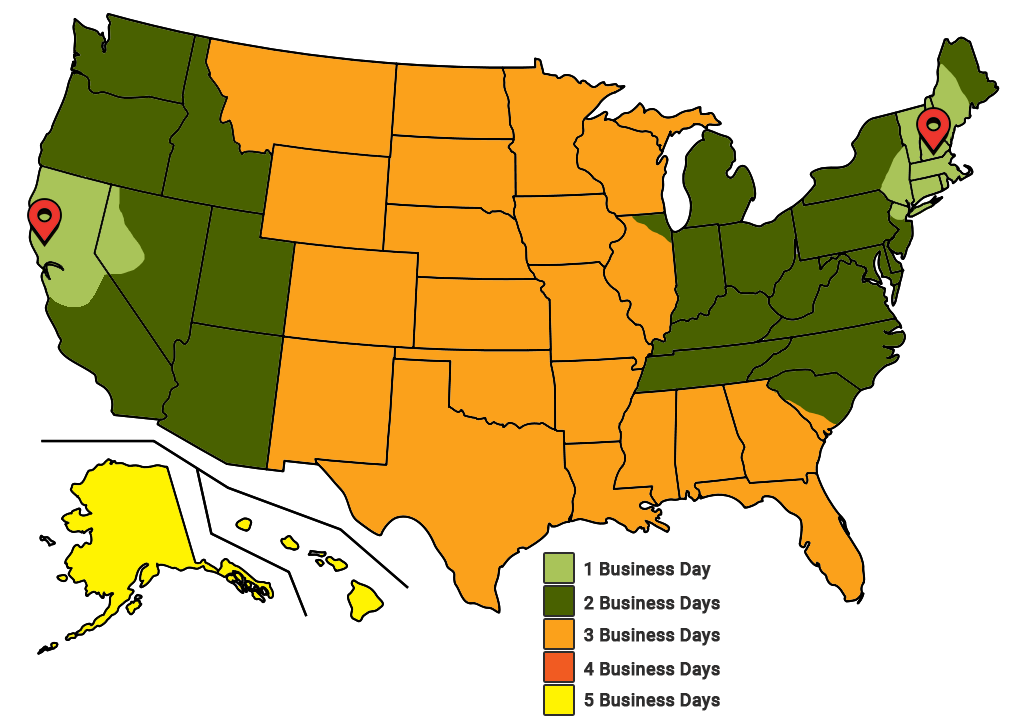 Shipping Deadlines
Items which are readily available in our warehouses can ship the same day if the order is completed prior to the deadlines listed below:
East Coast: 10:30 AM EST
West Coast: 1:00 PM PST
Canadian Orders
We ship directly to Canada via FedEx. Just provide your address at checkout. All customs fees are included within the pricing provided. Orders shipping into Canada may incur duties, taxes and other fees which will be billed to you. You may also use your own broker. If you would like to use your own broker, please forward us the information at the time of checkout.
We try to ship orders to Canada in one shipment. We may hold partial orders in our warehouse until all items are ready to ship. If this causes any delay, we will notify you via email.
International Shipping
Outside of U.S. and Canada: We will ship to your U.S.-based freight forwarder. Provide their address for shipping at the time of checkout. Learn more about international shipping and freight forwarders.
Shipping Methods
We process and ship orders Monday - Friday. Our office and warehouses are closed on the weekend.
We ship most items via FedEx Ground. If shipping to a residential address, we will ship your items via FedEx Home Delivery. FedEx delivers Monday through Saturday with Sunday delivery beginning in 2020. We strongly encourage clients shipping to a residential address to sign up for the FedEx Delivery Manager®.
For larger, pallet-sized orders, we ship via FedEx Freight. Fedex Freight deliveries ship out in 1-5 business days.
Damaged Items / Errors in Shipment
If your shipment arrives damaged, incorrect or incomplete, please contact our Client Service team at (603) 782-9513 within 5 business days of receiving your order. We may ask for images of the damaged items to show our supplier or shipping carrier. If part or all of your shipment was missing or damaged, and you do not contact us within 5 business days of scheduled delivery date, we cannot guarantee any compensation for damages or loss.
For Residential Deliveries
Because Residential Deliveries are sent without a signature requirement, we have little to no recourse when disputing lost packages with our shipping carrier, FedEx. We strongly encourage clients shipping to a residential address to sign up for the FedEx Delivery Manager®. This free service allows you to receive alerts, authorize deliveries online, provide specific delivery instructions, or request packages be held for pickup at a FedEx location. Alternatively, you can opt to have shipments sent to a commercial address where a signature will be required for proof of delivery.
Changes or Errors in Shipping Address
Please contact our Client Service team at (603) 782-9513 immediately if you need to make a change to your shipping address. Once an order ships, there will be fees associated with updating an address.
If an incorrect address is given at the time of the order and is corrected by our carrier, you will be responsible for the associated fees. Our carriers typically charge $17 per item to correct an address.
Any items returned to use due to incorrect address, refused shipment or unsuccessful delivery, will be treated as a standard return and subject to shipping and restocking fees above.
Additional Shipping Charges
You agree that we may charge any excess shipping surcharges to your method of payment as a result of appropriate address corrections made by the carriers. These may include residential or liftgate surcharges in cases in which the client has selected a lower cost shipping method for which they do not meet the criteria. We will make reasonable attempts to mitigate the need for this, negotiate to reduce them, and contact you in advance of making any charges. Shipping charges on custom orders will vary.
Website Security
Your security is our top priority. Our site provides SSL, which guards your personal information and guarantees your privacy while shopping. You can see that our site wide security is active by the padlock and https in the address bar.
Account Registration
When checking out, we highly recommend you register an account with us. When doing so, you will be able to track your orders, see past orders and rapidly re-order previous items. All the information we collect from you is transmitted over a secure server.
Payments
We accept all major credit cards as well as PayPal. Please only choose "I'm on Pre-Approved Credit Terms" if you have been approved for terms with us. To be on net terms, please contact us and we will provide an application. If you choose to pay by bank wire, please contact us for information. If you choose this method, your order will not ship until payment is confirmed. Also, when paying via PayPal eCheck, your order will not ship until the eCheck clears.
Client agrees that transactions processed on this site represent an offer to buy merchandise. Good Start Packaging has the right to refuse any order and refund any credit card payments for any reason. These reasons may include but are not limited to inventory availability, concern about credit card fraud, excess shipping charges not already in transaction.
Charges are billed to your credit card after an order is submitted online. You will be charged for the total order at the time of checkout, even if your items will be shipped at several different times.
The billing address on our website must match the billing address associated with the card you are using for payment. Otherwise, our website may reject the payment.
Sales Tax
Good Start Packaging collects and remits sales tax for all sales to: CA, CT, DC, GA, FL, IL, KS, MA, MD, ME, MI, NC, NJ, NY, OH, OK, PA, VA, WA & WI.
If you're purchasing our products for use in these states, they may be exempt from sales tax. We can flag your Good Start Packaging account so that you won't be charged sales tax at checkout. This is a fast process and usually takes less than a day.
1. Set up an account on our website. Keep in mind that our accounts are tied to email addresses so if you plan to use a new email this process will need to be repeated.
2.Complete our Sales Tax Exemption form.
3. Wait for our confirmation email indicating your account is all set up.

Governing Law
VOID WHERE PROHIBITED:
Although the information on this website is accessible worldwide, not all products or services discussed in this website are available to all persons or in all geographic locations or jurisdictions. Good Start Packaging and the advertisers each reserve the right to limit the provision of their products or services to any person, geographic area, or jurisdiction they so desire and to limit the quantities of any products or services that they provide. Any offer for any product or service made in the materials on this website is void where prohibited.
GOVERNING LAW: In the event of litigation both parties agree that the Law of the State of NH business registration of Good Start Packaging shall apply and both parties shall consent to the jurisdiction of said State's courts, or in the event of diversity of citizenship, the United States District Court for the (District). Both parties expressly waive a trial by jury.
MISCELLANEOUS: The Terms and Conditions constitute the entire agreement between you and Good Start Packaging with respect to this Web site. The Terms and Conditions supersede all prior or contemporaneous communications and proposals, whether electronic, oral or written between you and Good Start Packaging with respect to this Web site. No modification of the Terms and Conditions shall be effective unless it is authorized by Good Start Packaging. If any provision of the Terms and Conditions is found to be contrary to law, then such provision(s) shall be constructed in a manner to closely reflect, as much as possible, the intentions of the parties, with the other provisions remaining in full force and effect.